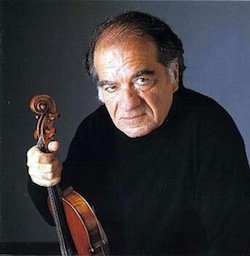 Ruggiero Ricci (24 July 1918 – 6 August 2012) was born Woodrow Wilson Rich in the Presidio Army Base near San Bruno, California to Italian immigrants to the United States of America.
An American violinist famous for his performances and recordings of works by Paganini, Sarasate, Wieniawski, Ysaye and other technical showpieces, he was first chistened Roger Alexis Rich by an army doctor, but later reverted to his father's Italian surname Ricci at the advice of his practice supervisor Beth Lackey, an assistant to Louis Persinger.
His christened name was also Italianized to Ruggiero, perhaps best to help his career as a violinist in America. After all, he was truly Italian by blood, and the fact that he would later play works by Paganini as staple repertoire made it seem appropriate.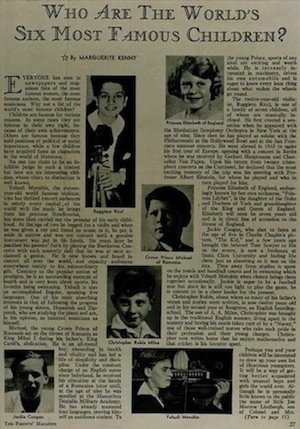 Ricci learned the violin from his father but moved on soon to have lessons with Louis Persinger at the age of six, according to his official biography.
His other teachers in the 1930s included Georg Kulenkampff, Michel Piastro and Paul Stassevich.
He gave his first public recital debut on 15 November 1928 at the age of 10, playing works by Mendelssohn, Saint-Saens, Vieuxtemps and Wieniawski in San Francisco, quickly putting him in the limelight and earning him the reputation as a wunderkind.
The following year on 20 October 1929, he gave a performance of the Mendelssohn Violin Concerto in New York under the baton of Henry Hadley with the Manhattan Orchestral Society to favourable reviews. A very successful debut at Carnegie Hall followed soon after, sealing his career as an important violinist to note.
RUGGIERO RICCI MUSIC CD on EBAY
---
Ruggiero Ricci, Second World War and Beyond
Ricci served during the Second World War as an Entertainment Specialist in the US Army from 1942 to 1945.
"Ricci was recognised as to have greatly contributed to the appreciation for 19th-century composers, including Wieniawski and Vieuxtemps."
A tribute to him in the December 2012 issue of the Strad magazine quoted "he was one of the few who could hold an audience spellbound without the aid of pianist or orchestra. Armed with just his violin and bow, he could conjure up a kaleidoscope of sounds and colours, expressed through an irresistible tide of rhythm, especially when playing his beloved Paganini or Bach. Especially from about 1950, he was a major presence in the musical world". His discography towards the end of his life listed more than 500 recordings, with about 65 CDs in total. His broad repertoire covered about 50 concerti, with about 40 ready to play at moment's notice.
Ricci's Violins
Ricci played on many Stradivari and Guarneri violins, but his main instrument since 1956 until 1999 had always been the "Gibson" or "ex-Huberman" Guarneri del Gesu of c.1731 which he had acquired from Rembert Wurlitzer Inc. For almost 40 years, he played on a Dominique Pecatte bow.
Ricci in Performance
The following is a video of Ricci performing the 3rd movement of the Tchaikovsky Violin Concerto in D minor Op.35.
This is Ricci peforming the Mozart Violin Concerto No.5 in A major with the Orchestra della Toscana conducted by Piero Bellugi at the Cenacolo di Ognissanti in Florence, Italy in 1985.
And here, Ricci plays the first movement of the Vieuxtemps Violin Concerto No.5 in A minor Op.37 in Hollywood at the age of 13 in 1932.
---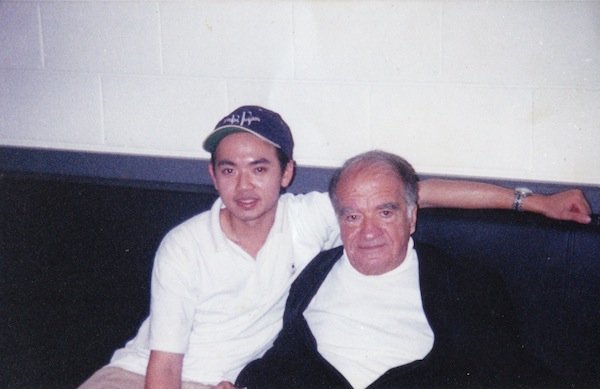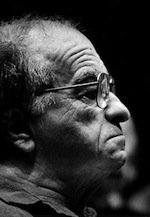 I was fortunate enough to meet the legendary maestro on 19 September 1999 at a solo concert at the Dewan Filharmonik Petronas in Kuala Lumpur.
Although already at age 81 then, he managed to pull off finger-twisting pieces, such as the Paganiniana, Paganini's Witches Dance and Saint-Saens' Introduction & Rondo Capriccioso, amongst others, in a fiery passionate manner.
While Ricci's recordings are not easy to source where I lived, his 1959 Decca recordings are popular and remain a hallmark of his soulful playing. Those, and a few audiophile recordings are the only ones I have of the maestro, and are presented below as recommendations for further listening.
I also own a video recording (on video tape!) of Ruggiero Ricci playing though all 24 Caprices by Paganini recorded for the purpose of appreciating his virtuosity. This video recording is truly a rare find!
SEE ALSO
---
RUGGIERO RICCI MUSIC CD AND DVD
RUGGIERO RICCI CDs FOR LISTENING
RUGGIERO RICCI BOOKS and DVDs