This is a collage of the TNZ USA Damascus Fixed Blade Tanto model THK 366, with photos and description of this knife.

DIMENSIONS:
Overall: 9.00 in (22.86 cm)
Weight: not measured
BLADE:
Blade Length: 4.75 in (12.06 cm)
Width: 1.2 in (3.04 cm)
Thickness: 4.7 mm
Material: 1095 and 15N20 High Carbon Steels
Pattern: True 512-Layer Ladder (8 folds)
Blade HRC: 59
Finish: Natural Damascus
Grind: Hollow
Style: Tanto
Edge: Plain
HANDLE AND SHEATH:
Material: Camel Bone
Handle Length: 4.25 in (10.80 cm)
Bolster: Damascus Steel
Sheath: Hand-stitched Leather
This is a handmade Damascus fixed blade knife model number THK 366 by TNZ USA.
The blade follows the tanto design and measures 4.75 inches long, with an overall length of 9 inches.
The Damascus blade was created by forge-welding multiple layers of steel into a solid billet block made up of 1095 and 15N20 high carbon tool steels. This was done by folding and re-welding the billet several times to produce the multiple layers.
The intricate patterns seen on the blade is achieved by manipulating the steel during the forge-welding process. Acid is then added to the blade usually by dipping, which attacks the layers of hard and soft steels differently, producing the different shades of light and dark pattern lines seen on the blade. Once the desired contrast is achieved, the blade is then dipped in an alkaline solution to stop it from reacting with the acid further.
Damascus is made of high carbon alloy steels, and requires more care as it is not regular stainless steel, and hence do not share the same corrosion resistance traits. Because of this, Damascus knives are best not to be kept in leather sheaths when in storage or not in use for long periods, as the leather absorbs moisture which will likely lead to the corrosion of the blade.
The bundled leather sheath which comes with this knife, is best used only when the knife is brought outdoors and carried on person on short term.
Nevertheless, what Damascus steel lacks in corrosion resistance, it gains in blade flexibility and toughness, and the combination of layered hard and soft steels produces invisible serrations on the blade that aid cutting. There are good reasons why these steels were used in the making of swords many centuries ago.
A mosaic pin is fitted on this side of the handle…

…made of natural camel bone in off-white hue.

Looks like a full-tang blade at first sight, although a different steel seems to be welded to the Damascus.

The multiple layers of the Damascus alloy steels become apparent on closer inspection.

The handle bolster is also made of similar Damascus steel…

…with a finger choil to facilitate holding and gripping the knife. See last photo below.

Authentic Damascus patterns are always a sight to behold.
Get It On eBay
---
This Damascus fixed blade tanto comes with a camel bone handle fitted with a mosaic pin. There are some natural flaws on the handle, which serves only to enhance its natural beauty and appearance.
The handle bolster is also made of Damascus steel, which lends a better visual proportion of steel to non-steel ratio on the overall.
The 8-fold Damascus blade is of a true 512-layer ladder pattern. This particular blade is a 59 on the Rockwell Hardness C scale.
Purchased on 24 February 2015, the TNZ USA Damascus Fixed Blade Tanto THK 366 cost about $63.00 delivered.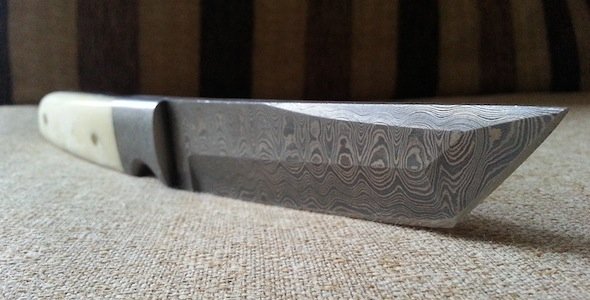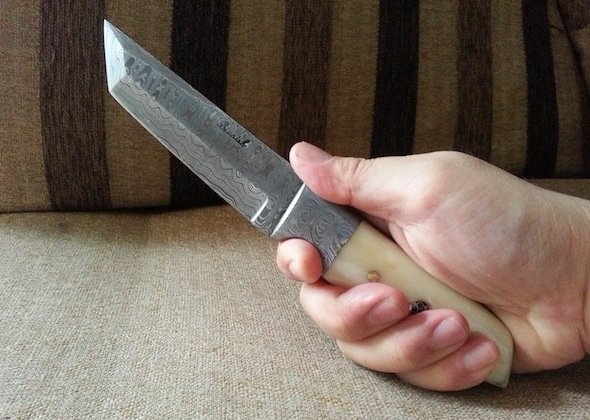 ---
SEE ALSO:
---
DAMASCUS BLADED KNIVES
OTHER FOLDING AND FIXED BLADE KNIVES
DAMASCUS and DAMASCUS-ETCHED KNIVES