I found myself looking at the Pacsafe RFIDsafe wallet at another Planet Traveller branch at Paragon. It caught my interest enough for me to have the sales assistant pull it out from the glass cabinet for close inspection.
One of the first few places I would stop at when I arrive in Singapore for my annual shopping is Planet Traveller. They are stocked with bags and storage solutions that I love, and their prices are often reasonable with good discounts now and then.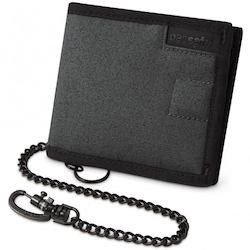 This time in February 2015 was no different. I had initially bought the Victorinox Calgary wallet from Planet Traveller at Ion Orchard on the second day I was there. However, on the third day, I found myself looking at the Pacsafe RFIDsafe wallet at another Planet Traveller branch at Paragon. It caught my interest enough for me to have the sales assistant pull it out from the glass cabinet for close inspection.
Although Planet Traveller have a 14-day return policy and the wallet was still new in its packaging, I decided I was going to keep the S$96 Victorinox Calgary wallet and get the S$79 Pacsafe RFIDsafe Wallet Z100 for added measure. I was, after all, in the middle of collecting merchandises from Victorinox – there was no need to return and exchange it for the Pacsafe.

Straight from the Packaging
So, why the Pacsafe RFIDsafe Z100 Bi-Fold Wallet?
SPECIFICATIONS:
Dimensions: 11 x 12 x 2.5 cm (4.3 x 4.7 x 1.0 in)
Weight: 155 g (5.5 oz)
Outer Material: 600D Poly Canvas, PU1000mm
Inner Lining: 200D Polyester, PU1000mm
Chain length: 45 cm (17.72 in)
BUILT-IN ANTI-THEFT FEATURES:
RFIDsafeTM Blocking Pockets & Material
turn and lock security hook
ADDITIONAL FEATURES:
detachable metal chain that can be secured to belt loop or attached to the inside of a bag
5 card slots (including mesh slot) and 4 sideway compartment slots
internal organisations for notes and cards
note divider and slip pocket
zippered note slot
zippered main closure
zippered outer coin pocket
There were a number of factors which drew me to the Pacsafe RFIDsafe Wallet Z100 on first impression:
the visually-appealing charcoal-coloured canvas exterior which gave it a rugged appearance. This month, I celebrate my one year of being out of employment, which meant I could use a wallet that doesn't need to match my executive outfit. I was searching for a ballistic nylon wallet, but a canvas one is like this looks just as great!
the larger-than-normal dimensions of almost a square which meant that cards within would be distributed further apart resulting in a less bulky wallet. After having inserted all my cards in, the whole wallet remains not very much thicker than its one inch thickness when empty. The zippered main closure helps keep an otherwise bulging wallet compressed.
an attached but removable chain which I wouldn't normally use, but it's there when I need to tether the wallet to my belt loop or elsewhere for theft protection. It's not the chain that is important, but rather the built-in metal loop on the wallet that mattered. However, the chain features an innovative lock that prevents it from being easily unlatched.
thin polyester pocket partitions for cash and card within the wallet which meant that they wouldn't add much to the bulk already caused by the plenty of cards that I have, unlike leather wallets with leather partitions. I also do not need 10 or 15 pockets for different cards – it is thus better to have 20 cards sharing 6 pockets, than 20 cards in 20 different pockets. The pocket partitions alone would add a few unnecessary millimetres in the overall bulk dimensions.
an outside coin pocket which is a last but not least – this is an important criteria for the wallets that I carry. If there's going to be any bulk contributed by coins, let it be outside rather than inside with the cards and cash. It would otherwise only make bi-fold wallets difficult to close.
| | |
| --- | --- |
| The Pacsafe RFIDsafe Z100 in an appealing charcoal grey colour… | …which goes well with just about any clothing colour. An easy match! |
| Let's remove some documentation… | …and get that chain out of the way. For now. |
| Let's begin with the zippered note slot right at the top. The zip is stowed away in a little pocket when it is closed. | Opening the zippered note slot reveals another partition for notes within. You can really trot the globe with this. |
| A silica gel pack to keep things dry, and some more documentation. | 5-year warranty, against manufacturing defects against workmanship. Not bad for a wallet. |
| Thin polyester pocket partitions for cards on the left side… | …and on the right side, with a mesh slot for an identity card. |
| With 2 more sideway compartment slots beneath on the left… | …and 2 more on the right. 4 sideways compartment slots in total. |
| The chain is attached to a secure loop on the bottom side of the wallet. I will remove this for daily use, and will perhaps only use it when I globe-trot. | The carabiner-like hook is specially designed with a twist lock mechanism which makes it difficult for unauthorised hook release. |
| I like the idea of the zippered coin pocket being on the outside of the wallet… | …that way, the coins will not get cramped in with the many plastic cards within. There is less bulk and zipping up is easier. |
Get It On eBay
---
What Else…RFIDsafe?
RFIDsafeTM BLOCKING POCKETS & MATERIAL

Most passports, credit cards and ID cards now contain an RFID micro-chip. This chip contains all your personal, sensitive information. Identity thieves are able to access this information from up to 10 feet away with the help of an RFID reader. Pacsafe's award-winning RFIDsafe™ blocking material prevents personal data from falling into the wrong hands by blocking out virtually all transmissions between 10 MHz – 3 GHz, which covers the radio frequency used in e-passports, credit cards / smart cards, and key cards.
Well, the Pacsafe RFIDsafeTM Z100 Bi-Fold Wallet isn't trademarked RFIDsafe without reason. The wallet is built to prevent identity thieves from stealing information stored in your contactless payment-type credit cards, such as the Visa Wave.
RFID thefts, as these are known as, also apply to government-issued identification cards (IC) as well as security access cards. Most of us would have at least one of these items in our wallets.
With the proper wireless equipment, an identity thief from up to 10 feet away could easily extract banking and personal information from these cards, including the codes from access cards that allow you access to your office or condominium.
With such cards and personal documents stored safely in the Pacsafe RFIDsafe Z100 Bi-Fold Wallet, one can rest assured that personal information cannot be wirelessly retrieved by identity thieves and hackers.
I believe this wallet will serve me well in that manner, as well as or better than what a normal wallet would for its basic functions.
How Identity Theft Works
| | |
| --- | --- |
| Documentation that came with the wallet explains how identity theft works. | RFID readers can be bought easily online by anyone. Identity thieves use this handheld device from up to 10 feet away and tap into the radio transmissions to read the data from your passport and cards without your knowledge. |
One Week After Real World Use
One week into using the wallet day-to-day, there are a couple of issues to highlight.
The first is, as big as the wallet is, it doesn't appear to be abnormally large when you first lay sight upon it. However, you may find the wallet too big for some of your pockets. Be sure to check at the shop and gauge its dimensions to see if it would fit into the pockets of the pants you normally wear. For most executive-type pants, the wallet may be difficult to insert and remove from the pockets, both front or rear.
This wallet seems to work better with the pockets on khaki slacks and cargo pants. This tight fit is kind of a double-edge sword. While removing the wallet may be inconvenient, it also means it is harder for pickpockets to remove it, chain or without chain.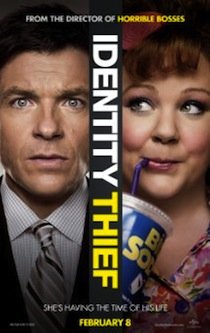 Another issue which I found slightly inconvenient is that my condominium access card now cannot be scanned with the access card in the wallet, even with the zip open. Again a double-edged sword; while RFID thieves will not be able to steal my residential access codes, it means that I will have to remove the card from the wallet every time I move in and out of my condominium. It is not a big issue, but nonetheless an inconvenience I would prefer not to get used to.
Still, with identity- and RFID-thefts getting more rampant, it is certainly peace of mind knowing that your personal information and database are protected from unauthorised access when your cards are stored within the Pacsafe RFIDsafe Z100 Bi-Fold Wallet.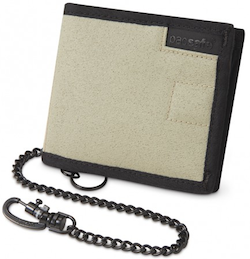 The Pacsafe RFIDsafe Z100 Bi-Fold Wallet comes in two colours – Charcoal and Slate Green (new), and retails for S$79.00 (Singapore Dollars) / US$45.00. While the Charcoal is expectedly a popular colour, the Slate Green is also handsomely attractive and will appeal to those who prefer light theme in colour style. Please check the links below for purchase.
Also, to learn how identity thefts are carried out and how you can protect yourself from being a victim, read 15 Ways to Prevent Identity Thefts.
---
PACSAFE RFIDsafe WALLETS
PACSAFE BAGS
PACSAFE Z100 and other RFIDsafe SERIES WALLETS