This is a collage of the second Custom Damascus Folding Knife, with photos and description of this knife.
DIMENSIONS:
Overall: 8.07 in (20.5 cm)
Weight: 9.17 oz (260 g)
BLADE:
Blade Length: 3.70 in (9.4 cm)
Width: 1.0 in (2.54 cm)
Thickness: 3.6 mm
Material: 1095 and 15N20 High Carbon Steels
Pattern: True 176 Layers Rain Drop
Blade HRC: 57-60
Finish: Natural Damascus
Grind: Hollow
Style: Spear Point
Edge: Plain
HANDLE AND SHEATH:
Material: Buffalo Horn
Bolster: Damascus Steel
Sheath: Hand-stitched Leather
After having bought my first Damascus folding knife with off-white camel bone scales, I thought having another one with dark buffalo horn scales (its counterpart from the dark side, perhaps…?) wouldn't hurt. I was initially drawn to the high-contrast Damascus rain drop pattern on the blade of this knife from Pakistan, and bought it just as an exhibition showpiece for my collection.
Like the other knife, the blade material on this one is no different. The blade is hand-forged 1095 and 15N20 high carbon steels to a hardness of HRC 57 to 60, and welded and re-layered to a true 176 layers. The blade was likely dipped in an acid solution longer than the other knife, as the rain drop pattern on this blade certainly appears to be darker and in much higher contrast than the other one which follows a ladder pattern.
Get It On eBay
---
The 4-inch blade is hollow ground with a plain edge, and half the length of the blade spine towards the tip is similarly ground to a swedge. A thumb stud of brass is permanently affixed at the usual place and only on one side of the blade, making this a right-hander knife.
The bolster is also made of Damascus steel with a series of wide and narrow file etchings on its sides, and is held in place on each side of the handle by a couple of hex-key screws.
The handle scales, made of dark buffalo horn, exhibit natural grain pattern and lines which add to the visual interest of the overall build. It is contoured and not flat, and held in position by brass pins. The two sides of the handle are separated by a spacer showing a series of intricate wide and narrow filing work quite similar to those found on the bolster.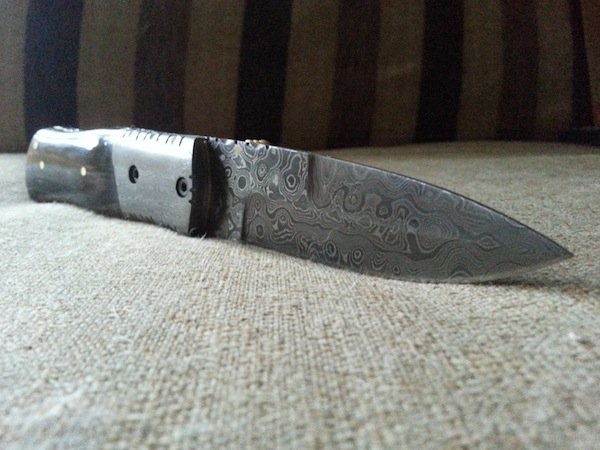 At over 9 oz, the knife is heavy – a little too heavy to be an EDC for some people.
There isn't a detent with this knife (as with the other one as well), but it is tight enough such that the blade doesn't unintentionally open or fall out by gravity (unlike the other). The same problem however is found here – the blade edge knocks against the steel handle spacer, which causes the edge to go a little blunt every time the blade is smacked closed.
This is a critical issue which should be resolved by the maker, as it would otherwise make it a more ideal knife of choice. It is after all, a very beautiful Damascus folding knife.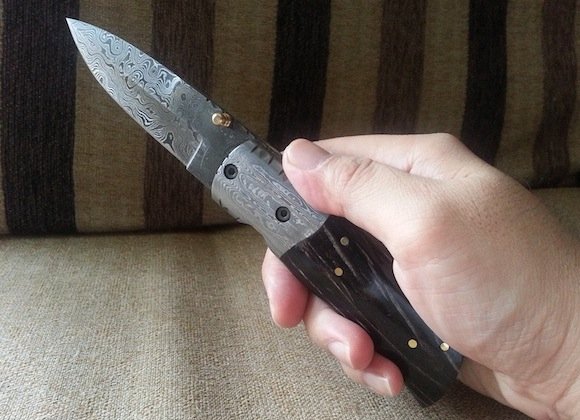 ---
DAMASCUS BLADED KNIVES
OTHER FOLDING AND FIXED BLADE KNIVES
BOOKS AND MAGAZINES ON DAMASCUS BLADES
DAMASCUS BLADES AND KNIVES