Scrabble by Electronic Arts Inc. features realistic graphics and game style that improve on this ever popular board game. For starters, the tiles are deliberately arranged to sit on slightly different height levels when placed on the board, a realistic effect that mimics the conventional board version.
A built-in dictionary is also available for quick look-up of valid words. Swapping tiles is easily done for up to 7 unwanted alphabets, and if you can't make up a word even after swapping tiles, go ahead, skip a turn and pass on.
You can play a soothing jazz number in the background during your game play, which is set in the playlist from your own collection of music in your iPod app, or turn it off altogether if you find the music distracting.
Scrabble for iPad offers different modes of playing, including a solo player match against the CPU, which we didn't find to difficult to beat at first attempt.
You can also play with your Facebook friends via the social network, or play across a few iPads over a local area network or wifi. If there are four of you and there's only one iPad around, there is the Pass 'n Play mode, where one player only sees his or her tiles, which disappears on the next turn before passing the iPad to the next participant.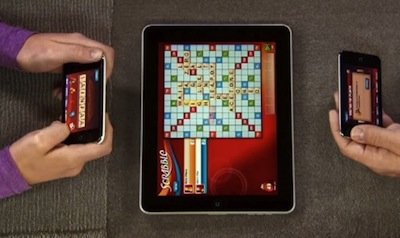 SCRABBLE – VINTAGE AND MODERN EDITIONS
---
Another interesting play mode is the Party Play option. When this is selected, the iPad becomes the main screen which shows only the Scrabble board which can be placed on the table.
Up to four players each with an iPod touch, iPhone or iPad with a pre-downloaded free app called Tile Rack can then hold their own iDevices, connect wirelessly to the main game, and flick tiles from the individual iOS devices to the central iPad, creating an interesting virtual way of playing Scrabble like the conventional way.
Scrabble can provide hours of fun, especially when you're with a small group of people. It is available in a number of versions and is downloadable on the App Store.
Features:
realistic game style
built-in dictionary for word check
a variety of multi-player modes
option to create playlist for background music from own music collection
SEE ALSO:
---
SCRABBLE – VINTAGE AND MODERN EDITIONS
APPLE iPAD AIR and iPAD PRO
SCRABBLE BOARD GAME