I had always wanted to own a TAG Heuer watch since college days, and found the opportune moment to buy one when my Swiss Army Watch was stolen from my golf bag in Malacca some time in 2003.
The Swiss Army Watch was the first watch I had bought for myself during my trip to Geneva in the summer of 1998, and had at one time recovered it after having lost it at sea off the shores of Pulau Langkawi. The watch had a special meaning, but seems it was not supposed to be in my possession for long.
So on 27 March 2004, I bought my first TAG Heuer watch – the Kirium Quartz Chronograph.
Fluid lines, pure design, precision of 1/10th second quartz movement. The ultimate sports chronograph.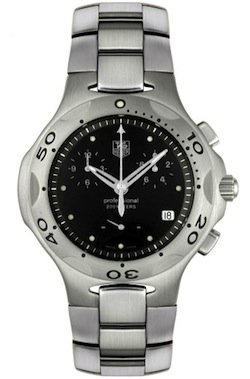 The TAG Heuer Kirium series was designed by world-renown stylist Jorg Hysek and was launch in 1997, featuring tennis player superstar Boris Becker as its ambassador.
The new digital chronograph Kirium F1 model released in 2001, but the entire Kirium series was discontinued not long after 2004.
My initial intent was to purchase the TAG Heuer Formula 1, given its then entry-level price of RM1,600 and upwards, and my available budget for a new watch. I had actually swiped my Citibank credit card for the amount RM1,612 for a particular model, but my eyes caught sight of the Kirium series as I moved around the glass display cabinets.
I was quick to realise that the Kirium was exactly what I wanted in a watch, something which showcased a fusion of arts and engineering, that form and function were equally important.
Interestingly, the Kirium series was born out of TAG Heuer's collaboration with Kimi Raïkkönen and David Coultard, and involved the engineers of Team McLaren Mercedes.
The Kirium sold well whilst it was around, and its discontinuation came as a surprise to many, the reason unknown. But that just made the watch all the more valuable and exclusive today in my opinion.
Getting the TAG Heuer Kirium Instead
"As both a musician and an engineer by profession, I find the artistic and technical connotations of the watch highly alluring, although the final price was over three times my budget, and twice my monthly take-home pay…"
So I cancelled my first purchase almost immediately and picked out a steel bracelet black dial Kirium chronograph model.
I chose quartz over mechanical, as I already had an automatic Rolex Oyster Perpetual Air King, and wanted a watch with the accuracy of quartz.
As both a musician and an engineer by profession, I find the artistic and technical connotations of the watch highly alluring, although the final price was over three times my budget, and twice my monthly take-home pay.
What the hell! I wasn't buying a watch every other week, month or year. I had to replace one which was stolen from me, and I have always believed that if you're going to buy something expensive and one which is going to be looked at daily, you'd better be buying something you really like, rather than something you can afford.
True, that was the irrational side telling me what to do – a case of heart over brains.
TAG Heuer has carved from solid steel a watch embodying the very essence of sport: a blend of power and beauty. A timepiece created from the most advanced technology. A new alliance of style, high-performance and ergonomics. A milestone in watch design. Kirium: The avant-garde by TAG Heuer.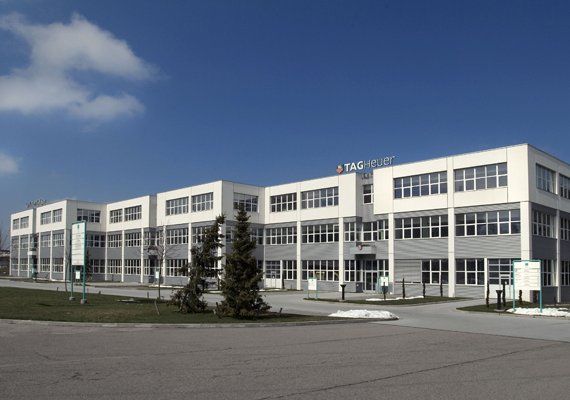 Features and Purpose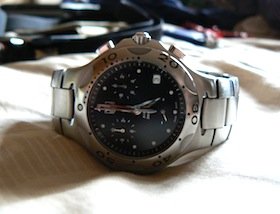 The TAG Heuer Kirium Quartz Chronograph discussed here comes with a uni-directional rotating bezel which I use during my dive sessions to estimate my remaining dive time.
It is uni-directional for a good reason – if you accidentally knock your watch against a coral or a shark, assuming the shark doesn't bother you thereafter, the remaining dive time can only decrease, which works out to be safer, instead of giving you false additional time which could be dangerous. Divers would understand this.
Now, a likely question is, why not use the chronograph feature for this purpose? Well, you could. But the TAG Heuer Kirium was not made with buttons which could be operated underwater as it is not sealed water-tight when the buttons are depressed. Some TAG Heuer watches are made with this purpose with the appropriate gasket seals, but not the Kirium.
Since it was developed with F1 in mind, the chronograph is more suited to timing laps around the race track. In fact, its lap button works incredibly well.
TAG HEUER KIRIUM
---
Upon starting the chronograph stopwatch by pressing the upper right button, a lap is recorded by pressing the lower right button below the crown. Pressing this button again moves the second hand to the resumed timing. Complicated but successfully achieved in its implementation and design.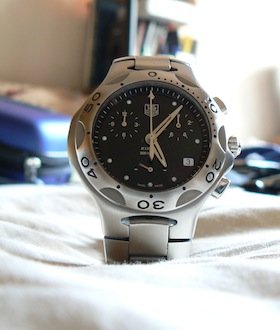 So does that mean you could never use the chronograph in water? No, you can actually. I do during my dives sometimes. But you have to depress the button to activate the chronograph above water surface just before descending, and only stop it after emerging above water upon ascending. It is probably more advisable to just stick with the uni-directional bezel for this purpose.
Is there any other use for this uni-directional bezel? Yes. I use it to track elapsed time for car parking, simply by rotating the dot at the 12 o'clock position to the current minute hand. To determine the elapsed time at any moment, just peek at the watch and read the minutes off the bezel where the minute hand of the watch is currently pointing to. You don't really need to bother yourself with remembering start times.
It could just save you a parking summon, or additional fee from crossing the hour.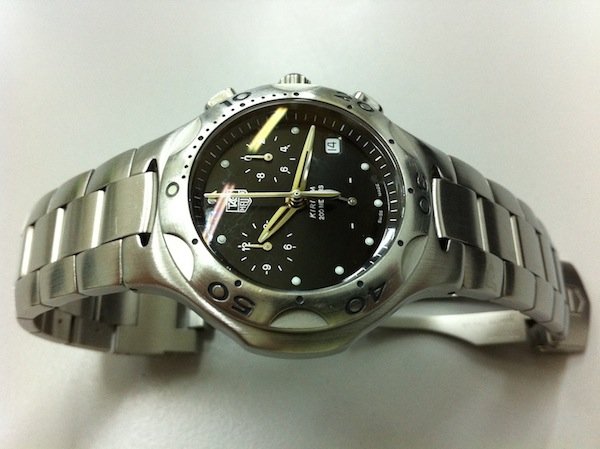 Sapphire Crystal and Anti-Reflective Coating
It is interesting to note that the slight dome-shaped sapphire crystal of this watch is glazed with an anti-reflective (AR) coating.
While sapphire crystal is impervious to scratches, the AR coating is not. Currently on my Kirium, light lines and water-like marks can be seen at certain angles when held towards light – these are areas on the sapphire crystal where the AR coating has worn off.
Regrettably, this happened when I graced the crystal surface against the bottom of the swimming pool during a dive practice session, and against the oxygen tank just before heading out to sea.
This abraded AR coating is a common occurrence for a lot of watches with similar sapphire crystals coated with AR coating.
It is easy to get part of the coating scratched off the surface, and some people opt to remove this AR coating entirely. I chose not to, as one of the most appealing feature of this watch is its domed sapphire crystal which looks almost invisible at various angles due to the lack of reflection as a result of this AR coating.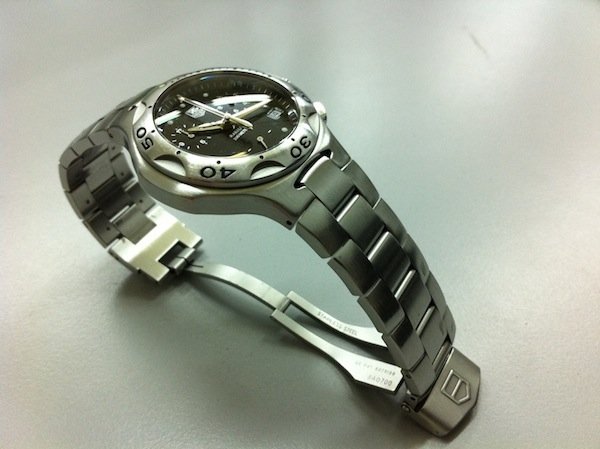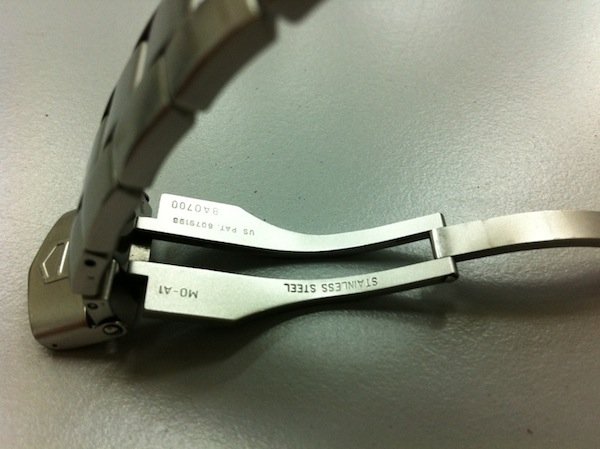 Steel Bracelet and Deployant Clasp
Other than the appeal of the almost invisible domed sapphire crystal, the Kirium steel bracelet was also designed with a patented link system which guarantees comfort and ensures that it adjusts perfectly to the shape of the wrists, without pinching the skin.
These two signatory features were amongst the definitive factors which aided in the decision to purchase the Kirium Quartz Chronograph.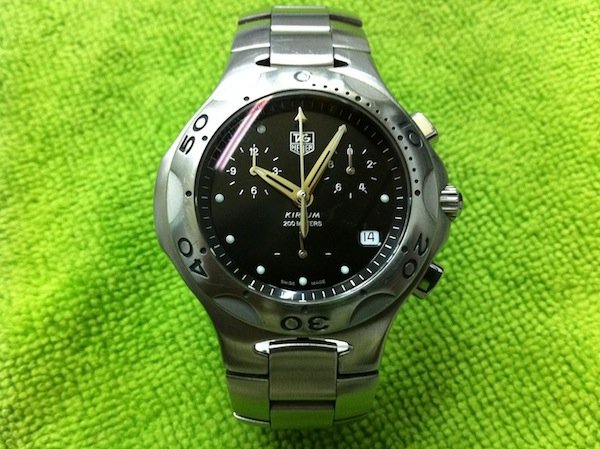 Purchase
The Tag Heuer Kirium series has been discontinued and it can be difficult or nearly impossible to find one for sale at retail watch shops these days.
One option would be to source for new old stock, or at online sites such as eBay or Amazon. Click here to see if they still have one today, if not the one reviewed here then one of the variation in the Kirium series.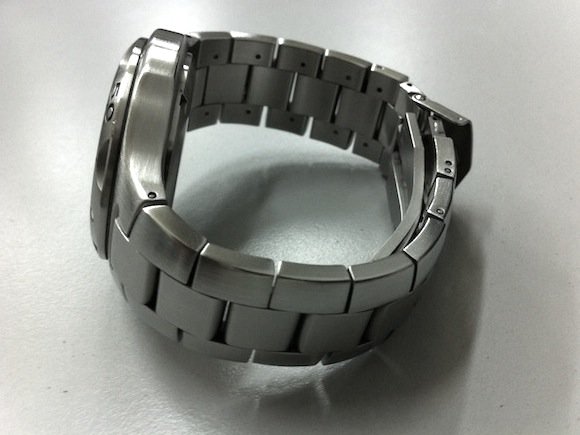 Service Updates
The watch was sent back to LVMH on 13 December 2011 for battery replacement and servicing, which included seal replacement and pressure test, for a total cost of RM210.00. In comparison, a direct battery replacement would have cost RM50 plus minus, depending on where you send it to. The watch was returned on 17 January 2012. It was during this time when the watch was in for servicing that I had bought the Maurice Lacroix Les Classiques Chronographe Automatique.
The watch was sent again to LVMH via Sincere Fine Watches KLCC for battery replacement on 18 April 2015 (I happened to be there in the morning to watch Janine Jansen rehearse the Mendelssohn with the MPO), and was later told that the watch will need to undergo pressure test and gasket replacement each time the battery is replaced these days. There isn't an option for just a simple battery replacement as LVMH insist on a comprehensive service. That's understandable. The watch was finally ready a week before I collected it on 16 July 2015. Didn't know why it took them almost three months this time round. The battery replacement and service came up to a total of RM190.00.
TAG HEUER WATCHES
BUY A TAG HEUER TODAY!
READ ABOUT TAG HEUER